The Inaugural Forum on the Adoption of Traditional Chinese Culture in Enterprise was grandly held at the Diaoyutai State Guesthouse on August 18th and 19th, 2017. The Forum was held by Beijing International Exchange Association Sustainable Development Committee and ZHISLAND, and was co-organized by Hua Tao Humanities Exchange Center of School of Humanities, Tsinghua University, Hou De Xin Ben Management Consulting Co., Ltd, Business Review, and DRC-Stanford Program Office.
Over 100 distinguished scholars, entrepreneurs and management consultants from various countries and regions attended the meeting, including mainland China, Taiwan, UK, Singapore, Malaysia and Indonesia.
Xu Zhuoyun, the well-known historian sent his congratulations from the America. During his speech, his expressed his concern about current agricultural production and modern way of living, and reminded us to cherish the natural resources and realize sustainability while developing our business. Besides, we should also pay much attention to the harmony among the people. As no matter in a family or even in a country or in the world, it is a common issue that every global citizen should think about. And we can find many good solutions from our traditional Chinese culture.
Zhang Yanqi, Chairman of Beijing International Exchange Association
Then several guests delivered excellent speeches on topics of the unique value that traditional Chinese culture to human civilization, the combination of traditional Chinese culture and corporate cultural and the relationship between adoption of traditional Chinese culture and the western management science.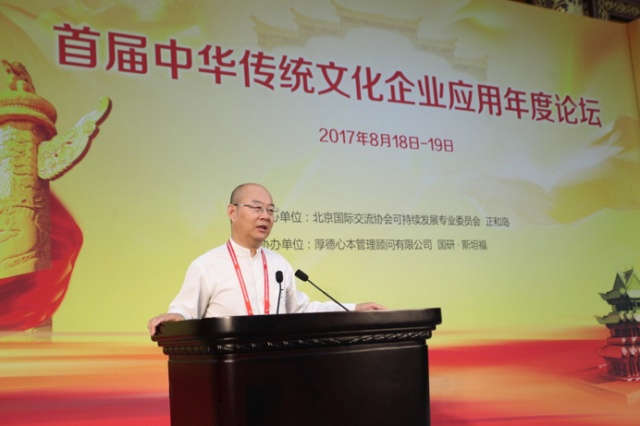 Liu Donghua, Founder of ZHISLAND
Wang Shouchang, Director of China Institute of Culture
Zhang Yanqi, chairman of Beijing International Exchange Association gave welcoming speech to all the attendees on behalf of the hosts and in his speech, he put forward to introduce the outstanding traditional Chinese culture into the management of enterprises, which will enrich the art of management. Sun Qingju, the former vice-president of Party School of Central Committee of CPC interpreted Implementation Projects on Promotion and Development of Traditional Chinese Culture issued by Central Office under the CPC Central Committee and the State Council. Liu Donghua, founder and chief Software Achitect of ZHISLAND, Chief consultant of China Entrepreneur advocated the conscientious enterprises should have conscience and good ability, returns as well as conditions. Wang Shouchang, dean of China Institute of Culture interpreted a cultural China from the perspective of culture and history. Cai Wenpeng, associate dean of School of Humanities, Tsinghua University highly summarized Chinese culture by using the word "Harmony". And Professor Yang Zhuang from National School of Development at Peking University analyzed the meaning of traditional culture in the era of Internet.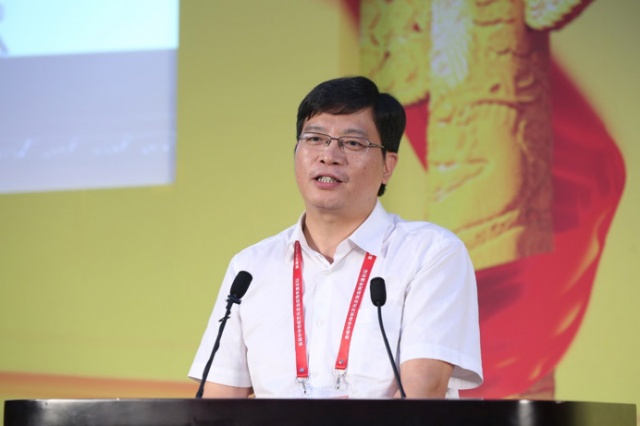 Cai Wenpeng, Associate Dean of School of Humanities, Tsinghua University
Simon Jones, CEO of Aurora Borealis Foundation and senior consultant of Chime Group in UK, delivered a speech at the forum. He mentioned that fortune should serve all the people. While China promoted the Belt and Road Initiative, most of the western people saw as a way to economic development, but actually it was only part of the mission. In his opinion, it was a cultural road , silk road and thinking road that connects to the future.
Simon Jones, CEO of Aurora Borealis Foundation
Chairman of Good-Ark, Great Sanxiang, EEKA Fashion, Pefect (China) Co., Ltd, and FOTILE also shared their stories, responsibilities and sense of mission which moved all the attendees. Although their development experiences were different, their principles on business operation and their behaviors were the same. They believed integrity and conscience were more important than gaining returns.
Wu Nianbo, Chairman of Good-Ark Group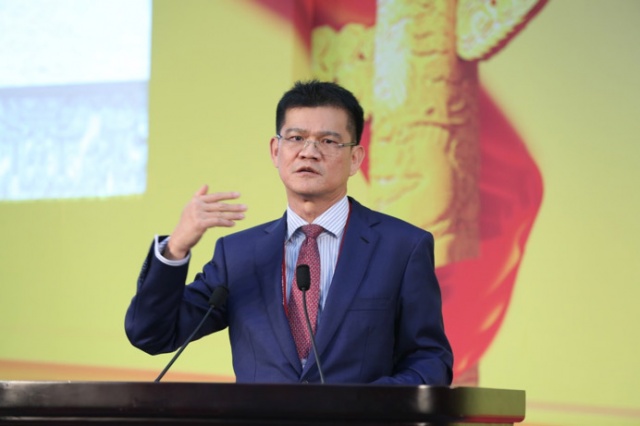 Hu Ruilian, Chairman Perfect (China) Co., Ltd
Zhou Xinping, chairman Great Sanxiang Camellia Oil Co., Ltd
Chen Lingmei, chairman EEKA Fashion Group
Mao Zhongqun, Chairman of FOTILE Group
The experts and entrepreneurs drafted the Declaration of Adoption of Traditional Chinese Culture in Enterprises, which advocates the integration and harmony of enterprises management and social development led by outstanding Chinese traditional culture.