The 2nd Traditional Chinese Culture and Its Application to Enterprises Forum was successfully held in Beijing on Jan 18th and 19th. The Forum was jointly host by Beijing International Exchange Association Sustainable Development Committee(BJ-SDC), Zhisland, Wangdao Management and Consulting Co., Ltd, and was co-organized by Hua Dao Humanity Exchange Center attached to School of Humanities of Tsinghua University, Zhisland Research Institute, Peter F. Drucker Academy and Beijing Hua Dao Consciousness Energy Management Co., Ltd. Over 150 well-known humanists, entrepreneurs and management consultants attended the forum.
Over the past four decades, with the rise of China, internet, AI, and bio-technology have enormously changed our business environment and enterprise eco-system, including enterprise organization and management pattern. How to absorb the essence from the traditional Chinese wisdom and apply it to the enterprise? Attendees explored the significance of Chinese management from various perspectives, such as Chinese traditional culture and business ethics, the unique value of Chinese traditional culture to human civilization, Chinese traditional culture and our cultural confidence, Chinese culture as well as new business civilization, and Chinese management, etc.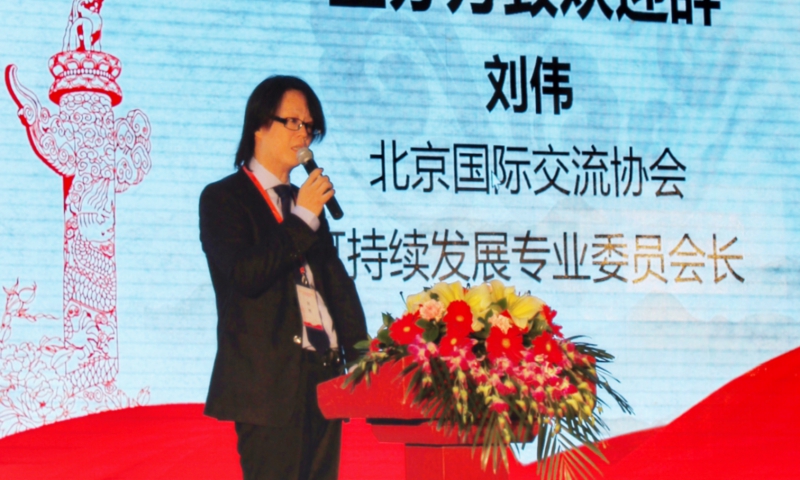 Welcome Speech by BJ-SDC Chairman Liu Wei
Liu Wei, Chairman of BJ-SDC delivered welcome speech for the forum. Wan Junren, dean of School of Humanities, Tsinghua University interpreted traditional Chinese culture and business ethics from a broad perspective of world view. In his speech, Dean Wan mentioned that humanistic management represented management and business in the 21st century and it was the foundation of business principles. No matter how much we emphasized management and its innovation, we could not forget this foundation.
Cho-yun Hsu, well-known historist and chief humanist of the research group on traditional Chinese culture and its application to enterprises in Tsinghua University, also sent his greetings from the US. Mr. Xu took Shanxi Draft Bank and Japanese social system as examples and explained sense and sensibility in the management systems of traditional Chinese enterprises. Mr. Wang Caigui, initiator of classic reading education for children said that Chinese people should not only have their own traditions, but also absorb and digest excellent management ideas from the west.
Mr. Zeng Shiqiang, former chief consultant of the research group on traditional Chinese culture and its application to enterprises in Tsinghua University and the most famous representative of Chinese management passed away on Nov. 11, 2018. During the forum, the organizer specially edited a film showing his contribution during the past 40 years to paid tribute to the Father of Chinese management. Mr. Zeng put forward Chinese management thought in 1979 and published many books to his credit, benefiting numerous people. He once said that enterprise management was a process of cultivating oneself and settling people, and the principles of self-cultivation laid in self-awareness, self-discipline and acting for oneself.
Liu Donghua, chief architect of Zhisland, founder of China Entrepreneurs Club

Liu Donghua, founder and chief architect of Zhisland as well as founder of China Entrepreneurs Club mentioned in his speech that in order to solve business problems, we had to firstly solve cultural problems. As successful entrepreneurs, we should shoulder more responsibilities on the revitalization of our culture and nations, to make this world a better place.
Ye Xiaowen, Deputy Director of History and Learning Committee of CCPCC and former Director of State Bureau of Religious Affairs said Chinese people had our own unique spiritual world and values.
Yu Lei, SDC Director, Head of Hou De Strategic Positioning Institute and Deputy Director of Hua Dao Humanity Exchange Center, Tsinghua University
Yu Lei, Head of Hou De Strategic Positioning Institute and Deputy Director of Hua Dao Humanity Exchange Center, Tsinghua University shared his ideas from his past 10 years' practice and reflection. He said that the strategic positioning theory created by Mr. Jack Trout was mainly to manage the mind of clients, while the management system created by Kazuo Inamori focused on improving the inner energy of a company. Mr Yu combined the thoughts of Peter F. Drucker, Kazuo Inamori and Jack Trout, the three most prestigious people in management area in contemporary era, and put forward the concept of consciousness energy management.
- Cases of traditional Chinese culture and its application to enterprises
Yu Huiyong, Chairman of Pagoda Fruit Franchise: Seek balance between Yin and Yang

Pagoda was founded in 2001, and was the first fruit franchise in China. In 2018, its sales volume reached 10 billion yuan. Eurofresh, one of the well-known magazines in Europe made an exclusive interview on the topic Why China, Why Pagoda in 2016. Yu Huiyong, Chairman of Pagoda answered that in the Chinese culture, we tended to seek balance between Yin and Yang, which would promote Pagoda to be the world class fruit franchise in the world.

Keynote Dialogue
Through the past 20 years' practice, Pagoda has summarized its corporate culture as setting a big goal, having a kind heart, keeping justice and sustainable benefit, making continuous progress and achieving right results.
Mu Jianxia, President of Reputation Building Epartment Store Group
Gu Meijun, Deputy General Manager of Suzhou Good-Ark Electronics: build a happy company through "Family Culture".
Growing from a small diodes producer to the biggest diodes producer in the world, Suzhou Good-Ark Electronics owe their achievement to the strong cultural foundation. Presently, Good-Ark can produce 250 million diodes each month, accounting for 8%-9% of the total diodes production in the world. All their products exported to 43 countries and regions and just the revenue of the third quarter in 2018 reached 141.6 million yuan. From 2010, Good-Ark started to build Family Culture within the company, integrate ideas such as family rules, family learning and family property into the management of the company. In Good-Ark, all employees are in a big family and they feel responsible and unwearied when doing their work.
Good-Ark builds a happy company from eight areas. The first area is the humanistic care. Besides national and municipal welfare for the workers, the company adds over 30 welfare programs to their employees. The second area is humanistic education, which aimed to improve the moral standard of employees. The third one is green enterprise, which develops projects calling on people to protect environment and our planet. The fourth area focuses on health maintenance by setting up traditional Chinese medicine health club for the employees. The fifth area is philanthropy. The company has set up a foundation and work with the government to help vulnerable people. The sixth area is volunteer programs. More than 85% of the employees of the company are registered volunteers of the company and city. The seventh one is humanistic documentation, recording all the precious moment and share with people in need.
Keynote Dialogue
To each company, ways leading to success might be diverse but share one common ground. They all have the root of traditional Chinese culture and follow the principles inheriting from our ancient saints.
Group Photo
The aim of the forum is to explore the definition of Chinese management by sharing and discussing the traditional Chinese culture and its application to enterprises, in order to help entrepreneurs to find the road of development in the new era and promote the progress of new business civilization.